How they met and got married
A month after returning home to Colorado Springs, Harold enrolled in Colorado College but lived at home with his folks. He joined the Beta Theta Pi fraternity. One auspicious night, Harold double dated with another Beta. The date that his friend brought was very pretty and named Polly Robison. His buddy and Polly sat under a blanket in the rumble seat of Harold's Model A. Not too long after that, Harold and Polly began dating, and soon Polly was "pinned," a type of "pre-engagement." Polly was a Kappa Alpha Theta.
| | |
| --- | --- |
| | When a girl was to be "pinned" the Beta men's choir would join the wooing gentleman in serenading his new sweetheart. Then he would give her his fraternity pin as a sign of their dating commitment to each other. Polly was serenaded at her window by the handsome Beta and received his pin. |
Not too long after, Harold gave Polly a diamond ring and they became engaged. She immediately broke her ring finger playing girl's basketball and couldn't wear it for several weeks.
Harold decided he wanted to go into engineering so they both transferred to Iowa State where Polly's dad and brother Will had graduated in engineering. Harold lived in the Beta house and Polly lived in the dorm. They had hardly settled in when that fall (1950), Harold was called back into active duty for the Korean War.
Harold and Polly had originally set a wedding date for December 1950 but moved it up to November 2nd so they could be married before he left for the Navy. The wedding was at Polly's sister Sally's house with an Episcopal minister officiating. For the ceremony, Polly wore a pink suit that her mother had made for her to go on her honeymoon, and Harold looked "so handsome" in a brown suit.
I Corinthians 13 was read as part of the ceremony. Kent Lovelady, a friend from California, was the best man. Sally was matron of honor, and Sally's children, Gay and Zimmy, were the flower girl and ring bearer.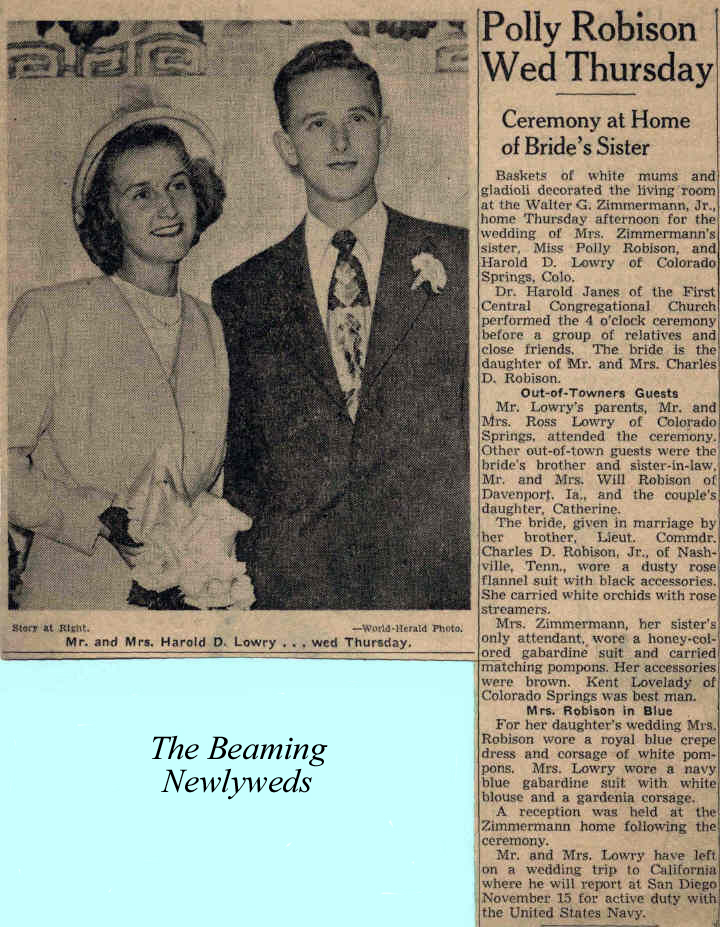 Charlie, Nana, Polly, Harold, Minnie, and Ross
Immediately after the wedding they left for a brief honeymoon, driving across Nebraska to Colorado where they went skiing in Loveland, Colorado in the Rockies. Their best man, Kent joined them!
Their lives together
Upon their return, they left for Great Lakes, Illinois where they stayed in a hotel waiting for the sailors' assignment. The assignment was given and the train was leaving that night for San Diego. Harold contacted Polly and told her to quickly buy a ticket on the same train the sailors would be on. She did. She showed up on time at the Chicago train station and joined the eighteen sailors who cheered when she arrived. Polly hoisted her box of pots and pans and a suitcase onto the train. Harold was allowed to go back to visit her in her train car as they traveled. But in the middle of the night the sailors' car was separated from Polly's car and she was left on the track. Somehow she grabbed another train and showed up at the Harvey House eatery next to the train station in Los Angeles where all the sailors cheered and bought her breakfast. Polly went to the YWCA to get a bed. It was a terrible situation with a lot more city life than a Nebraska farm girl was used to.
When they finally got to San Diego, they got an apartment with a month-to-month lease and moved in as they waited for orders. This was not an ideal situation either. It was a bedroom and living room with a shared bath. A bad smell permeated the place. After a short time they discovered the kitchen sink drained into the basement. Fortunately they didn't stay very long there. They were sent to Long Beach, CA for the ship to be outfitted and got an apartment there. This was a second floor apartment with a staircase up the outside of the building. Polly was delighted to find she could step out the door and pick a ripe avocado from the tree overhanging the apartment. After a commissioning service, which included a band and prayers for safety, Harold boarded his ship, the USS Belle Grove and sailed through the Panama Canal to Baltimore, Maryland and Norfolk, Virginia. The USS Belle Grove was a ship Harold had brought into harbor in Seattle after WWII and had taken a picture of her because she was so large. Now Polly, on her own after following him to San Diego, traveled back across the country by train to Norfolk and was hosted by her brother Charlie's wife's family, the Bells.
Harold's secret mission was to go up to Greenland to the "dew line," where radar could detect enemy aircraft and give warning and protect the USA from enemy rocket fire. Lonely, Polly got a job working in the sporting goods department at Rice's department store where she was paid $25 a week and commissions. Harold was a 3rd class engineman and was promoted to log room yeoman. On the way north, his ship suffered a broken shaft to one of the propellers and had to return to Norfolk, the homeport and Baltimore, the repair yard. The ship was put in dry dock to be repaired. The message he sent to Polly was "Happy ship, happy crew; there'll be no trip, we've lost our screw."
While the ship was being repaired they found a studio apartment (They could reach the refrigerator from the bed!) in a part of Baltimore called Brooklyn and lived with their Italian landlords, Phil Fiori and his family. They were very hospitable people and Harold and Polly were often given a plate of their wonderful spaghetti and meatballs. Phil was a barber and cut all the neighbor boys' hair on Saturdays in his backyard. When the ship was finally repaired, Harold had only 2 months left to complete his tour of duty and the ship would be out to sea for 6 months. Charlie Robison interceded on his behalf and he was forgiven the last 2 months so he could go back to school. Polly was now expecting their first child. They returned to Iowa State and lived in GI temporary housing on campus called Pammel Court. Harold Doidge Lowry, Jr. was born in Ames, Iowa, on June 19, 1952.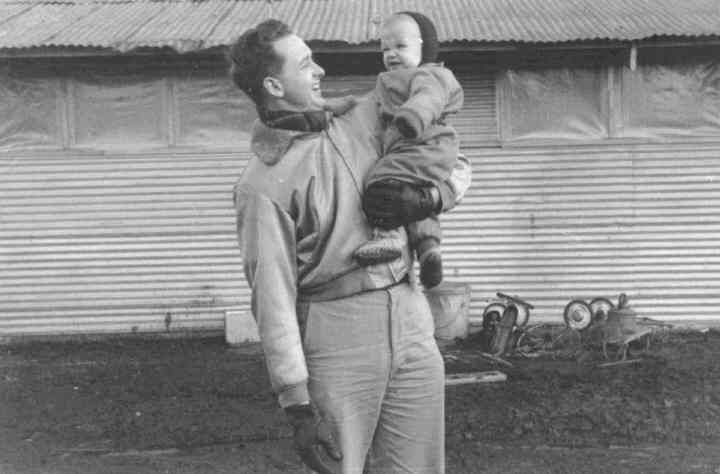 Harold and baby Hal Jr. at Pammel Court
In the last semester of his senior year at Iowa State, Harold Sr. interviewed at a number of places, but the job at Kodak in Rochester, New York seemed the most promising. Their love of boating and the water drew them to Lake Ontario. A letter of recommendation to the president of Kodak from his old boss at Stewart's Photographic Studio where Harold had worked several summers opened the door at Kodak.
Harold graduated in the spring of 1954 and started at Kodak that July. They rented an apartment at Manor Parkway across from Highland Hospital at first until they were able (with down payment loans from both sets of parents) to buy a new home on 181 Coronado Drive in Irondequoit, a suburb of Rochester.
Polly and Harold at their Coronado Drive homestead
When their daughter, Mary Susan, was born on December 14, 1954, Harold bought a box of cigars from the nearby drugstore to give out to friends. He wrote a check to pay for it but the owner of the store never cashed it.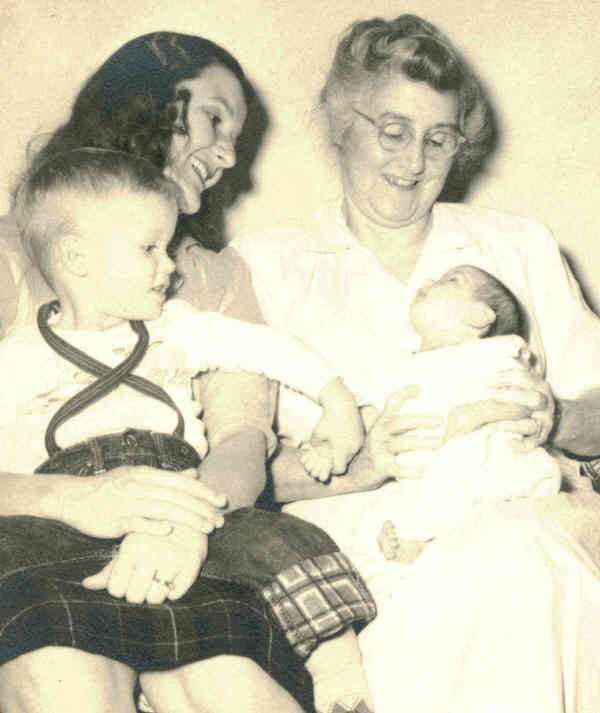 Hal Jr., Polly, Nana, and baby Susan
They soon discovered many wonderful friends in their new neighborhood where they lived for about 8 years (Hal and Gretchen Schindler, Peg and Jack Pinney, Jane and Bill Reid, Walt and Betty Brownell, Lu and Jack Kirby, and Jim and Elsie Schwartz). Their third child, Thomas Stone was born on May 2, 1957. They built an addition onto the house to accommodate the new arrival. In the fall of 1962, they moved the family to 275 Sagamore Drive, an older 2 story home.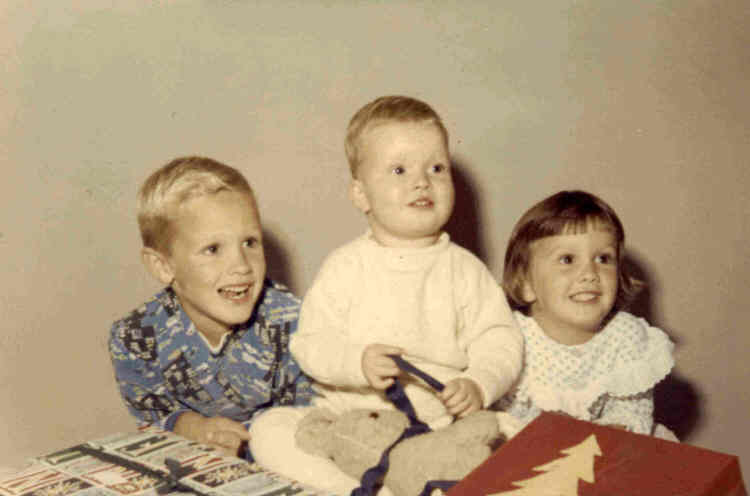 Hal, Tommy, and Susan
Raising children was a wonderful and full time job for Harold and Polly. They became involved in teaching the children how to swim, sail, ice skate, bicycle and many more everyday skills they would use later in life.
In the winter months, they built a skating rink in the back yard and became the gathering place for all the neighborhood children. They learned how to make marionette puppets and built a puppet stage in the basement, another reason to visit the Lowry's. There was always something of interest going on at the Lowry's home.
The family also made some very happy and memorable trips to Pawley's Island and out to see family in Colorado Springs and Omaha.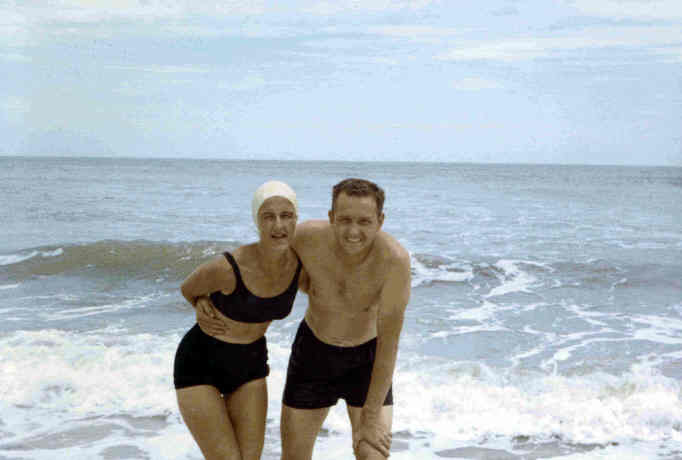 The happy family at the beach on Pawley's Island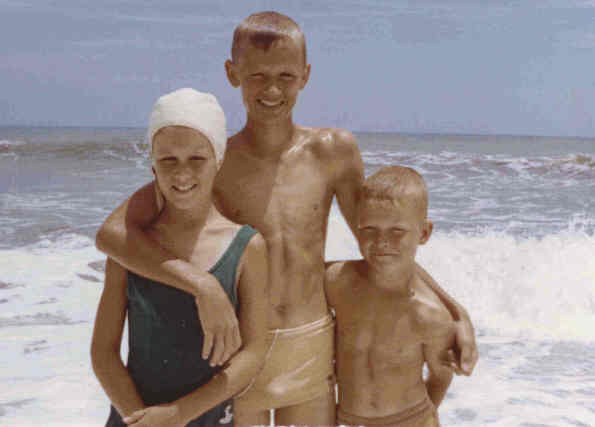 In the summers they sailed on Irondequoit Bay at the Canoe Club, sometimes competing in races and regattas. They owned a series of boats: a Sunfish, a Thistle "Scot Free," and a Penguin "Chinook."
Eventually they bought a bigger boat "Radiant" and moved out onto the Lake where they joined the Rochester Yacht Club.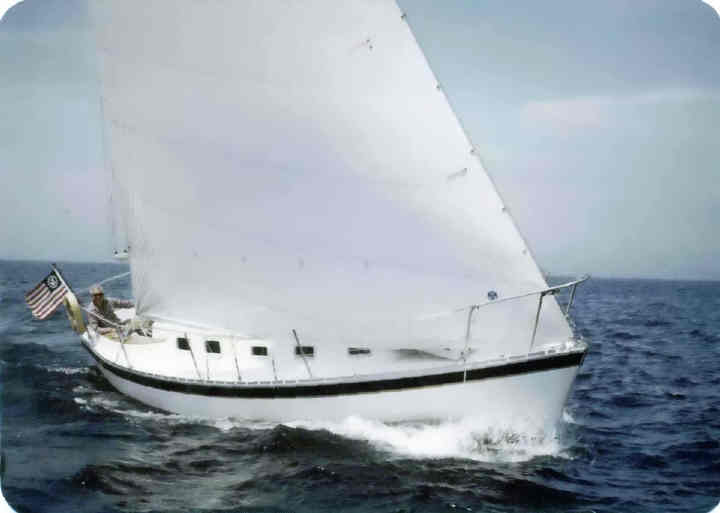 "Radiant" at full sail with Harold at the helm
Harold worked for Kodak for 33 years before taking early retirement in 1986. His name and work went into many patents both in the USA and worldwide. He developed viscous processing for 16mm motion picture film and color prints. He also created a process called pressure ferrotyping that allowed a glossy paper surface to be used in color film processing. Harold was one of Kodak's most creative and valuable employees and was named Assistant Director of the Photographic Technology Division.
Polly worked for years teaching swimming to children and adults through the YMCA and continued to sew, garden, and play tennis avidly. She was a strong supporter of the Rochester Philharmonic Orchestra and ran their fund-raising drive one year. For many years she played duplicate bridge and organized a bridge group at the Rochester Yacht Club.
Harold developed his interest in woodworking from a simple hobby to the art of a master craftsman. Pursuing his musical interests, Harold joined a band and played his trumpet for the State Hospital, Nursing Homes and other venues. Later he joined the Irondequoit Band and has played in Washington, DC and many places in and around Rochester.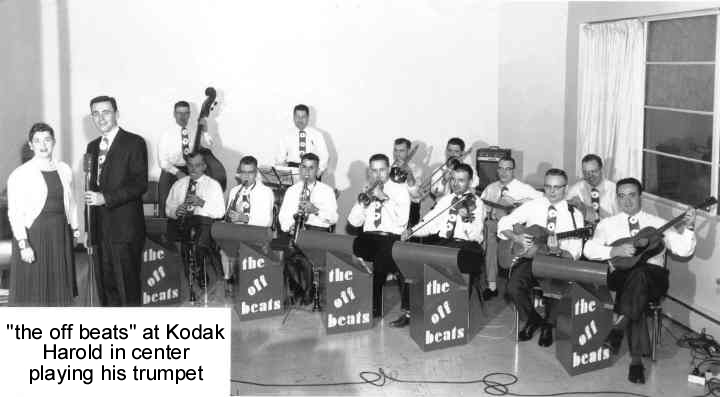 As the children grew and left home for college (with the hard earned savings of their father), Harold and Polly began to do some traveling to "far away places with strange sounding names." Since then they have taken more than 25 extensive trips to many countries including Australia, New Zealand, Scotland, Italy, Panama Canal, Antarctica, Alaska, France, England, Greece and China. For a more complete list see the Appendix.
What a full and rich life you have had together! Hats off to you both for such a wonderful marriage and family! And to think it all began with a double date!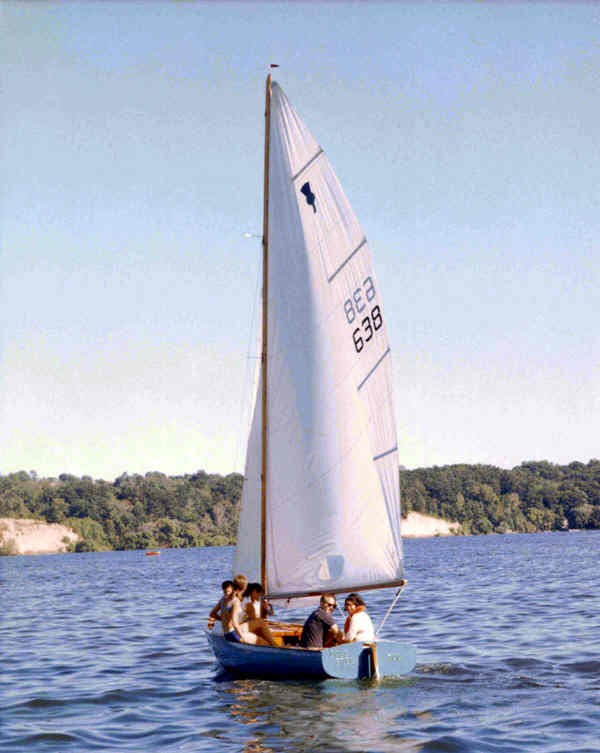 "Scot Free" out on Irondequoit Bay